"Every Sunday, on the corner of Melrose and Fairfax, the comes to life. Thrifters and antique collectors alike flock to the parking lot of Fairfax High School to find free valet parking, a $3 entrance fee, and a bazaar-style shopping experience that is sure to satisfy any and all vintage enthusiasts.
 Upon entering and seeing the abundance of tables and tents set up, it's normal for first time visitors to feel the need to stop for a second and digest their surroundings. It looks like a lot to handle, but walking around and taking in the environment, it becomes clear very quickly that the trading post boasts a tailored, almost curated, selection of pieces – something very rare for flea markets. Vintage Levis and original band and concert tees are staples at almost every clothing vendor. So for someone to get the real thing, as opposed to the H&M and Urban Outfitters replicas, this place is a gold mine. There are also boots, fur coats, and leather biker jackets galore, as well as antique furniture, tapestries, classic vinyl, and so much more.   
 Melrose Trading Post, photo by Brenden Benjamin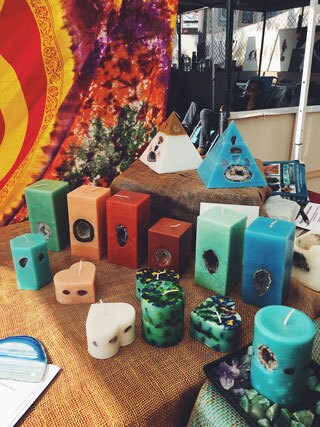 A lot of the vendors make a point of being there regularly, and the two that really stood out to us were a leather jewelry maker whose pieces were reminiscent of those made by the designer brand Zana Bayne and the Hippie Dippies Crystal Candle company. Hippie Dippies Crystal Candles is a small business run by husband and wife team, Johnny and Doll. Their crystal and geo chakra candles are made from organic coconut wax and crystals native to California. The candles are unique in that they melt down through the center so that the crystals illuminate while the candle burns. ..." 
 by Brenden Benjamin